What is Local SEO?
Local SEO is search engine optimisation that focuses on a specific location.
In other words, local seo consists of appearing in the top positions on Google for specific locations. Google search engine optimisation for searches in a specific location.
It is suitable for any keyword you can think of that can be searched for in Google in the following way: "keyword" + "in" + "place" of your choice.
On many occasions, especially on smartphones, typing the search term is enough because Google recognises your location without you having to type it in. Today in 2021, search location is highly relevant for many search terms, so local seo is becoming increasingly important.
Why is it so important to improve local seo?
If you have a company or business (whether traditional or online) that targets a specific city, you want to target customers in that city. It's about standing out from the crowd when searching for the location of your business. Let's take an example:
Max wants to buy a musical instrument and has only recently moved to Berlin. He doesn't know where to go, so he gets his smartphone and types "music shop in Berlin" into Google.
And what will you find in the first Google results? This: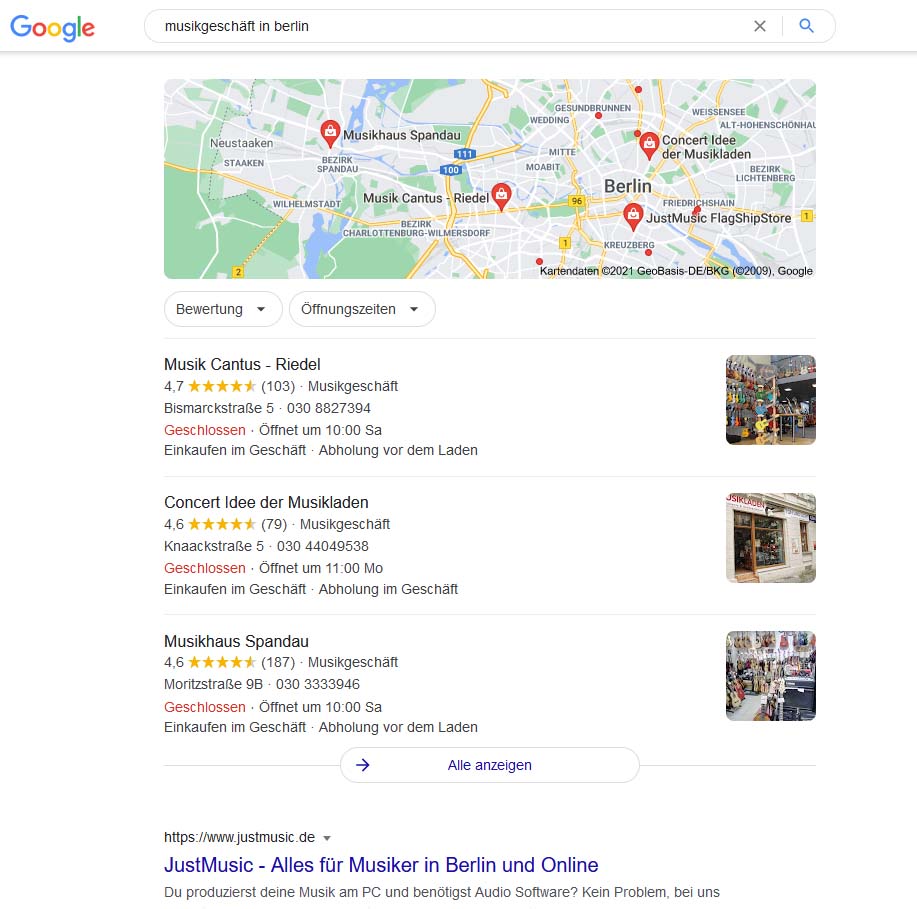 Did you know that the first thing you see in Google search results is a box with Google Maps and websites for that location?
These results are displayed above the organic Google results. So you need to be aware of how important it is to know how to do local seo on Google.
9 Local SEO Tips
SEO is a science and of course this also applies to local SEO.
Therefore, it would be an understatement to generalise everything that is involved in a single article.
But since you've come this far to learn how to do local SEO, we'll explain some simple keys to position yourself on Google with local SEO.
1. Sign up on Google My Business
Google My Business is the Google platform for local businesses, and registering on this platform is one of the most important and helpful marketing actions you can do for free.
If you have a business with a branch, it is important that you are represented on Google My Business. It is also necessary to create a Google account for this process.
It's not essential to have a branch/office to use Google My Business, but if you do, it's even more important that you use it.
You will not only be displayed in the search for your business or your optimised keywords + city, but also on Google Maps.
The process is very simple: you just have to fill in a form, upload the pictures of your company (which have to be attractive and of high quality) and:
Check that your company is correctly marked on the map.
Choose the most appropriate categories depending on the function and theme of your business.
Check that your business details, opening hours and payment methods are correct.
Important: Make sure you include all the basic information about your company.
The more information you give and the better it is, the easier it will be for a potential client to become a real client.
It is also advisable to place the main keyword in the title of the company profile.
Use the "Description" to describe in a natural way what your company does.
Avoid spamming and place the keywords in an appropriate and semantically suitable way. Do not overdo it with the optimisation.
Here you can find more tips on how to optimise your Google My Business profile.
2. Don´t forget about On-Page SEO
Just because you want to rank for your site doesn't mean you should forget about on-page SEO. You must always optimize your website for on-page and off-page SEO, even if off-page is more important.
The advantage of taking care about on-page SEO on the site is that if you manage to position the keyword in question (to stay with the example: "music shop in Berlin"), you will appear twice on the first page of Google: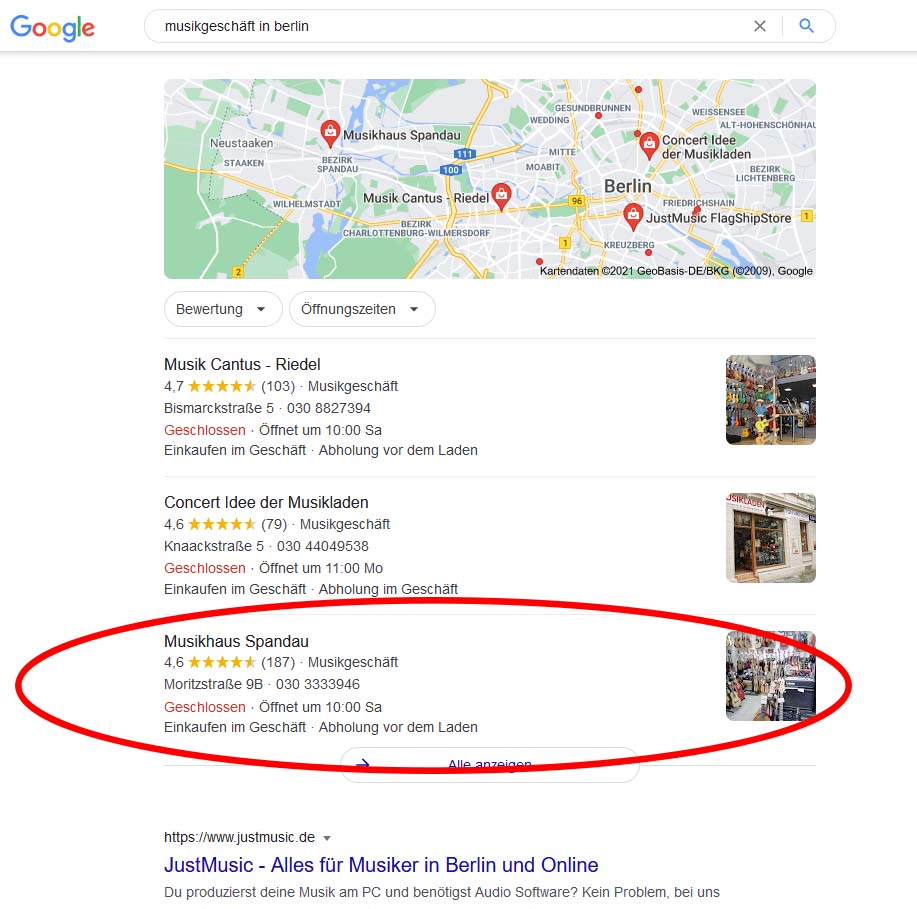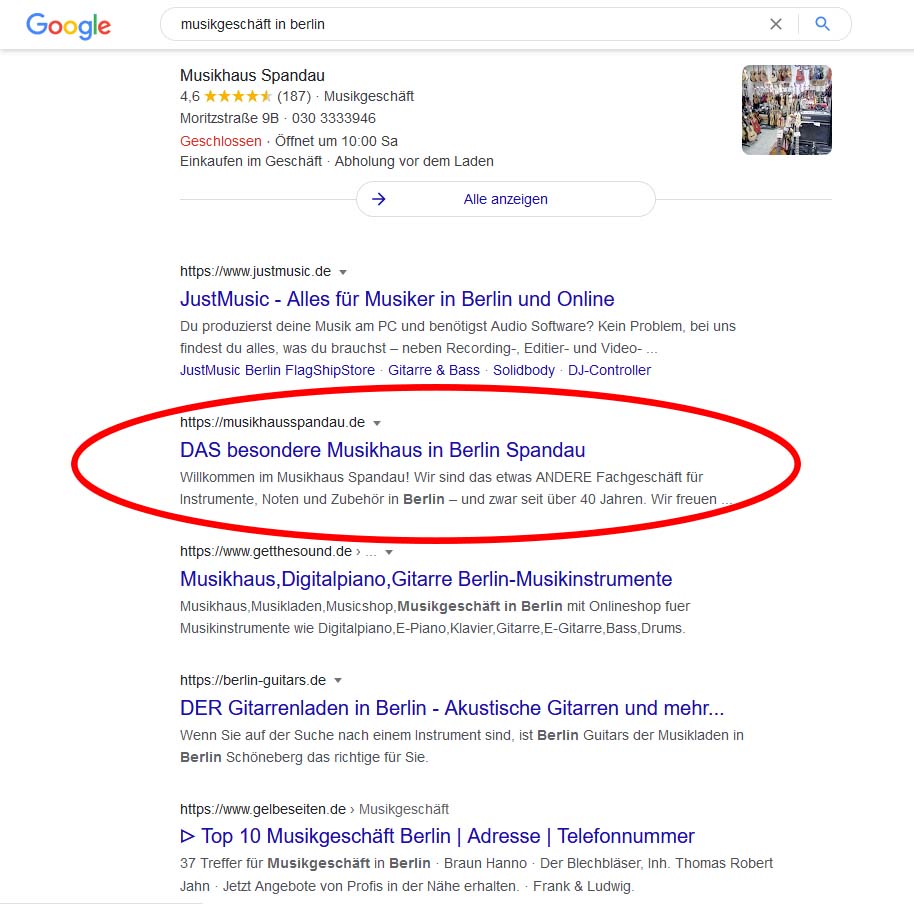 3. Use your city as a keyword in your texts on the website
No matter what kind of business you have, don't forget to mention your location in some points and texts on your website.
To stay with the previous example: If you own a music business in Berlin, you would prefer to be well positioned in your city rather than being halfway well positioned in your whole country, right?
The same is true for many businesses: Dentists, lawyers, sports shops, gyms, dog trainers and much more.
The visitors who become customers come from your city and therefore you have to include your city in the keywords.
Just add your city to the keywords you use in your titles and texts. Oh, and don't forget the ALT attributes of the images.
Example: "Our music shop in Berlin offers a wide range of musical instruments and audio software...".
If we wanted to do local SEO for the keyword "music shop in Berlin" and its variants, it would be correct to use "music shop in Berlin" (or the city you want to position) and its variants + the keyword "Berlin" or "in Berlin" on our website.
4. Register in local directories
Google is also able to recognise your NAP in the directories in which you have registered.
Therefore, it is very important for local SEO positioning that you register there and have exactly the same NAP (name, address, phone) in all of them.
In this list you can see some examples of local directories:
For the registration I find the Local Listing Management Tool from Semrush very helpful, as the tool automatically distributes the same entry everywhere.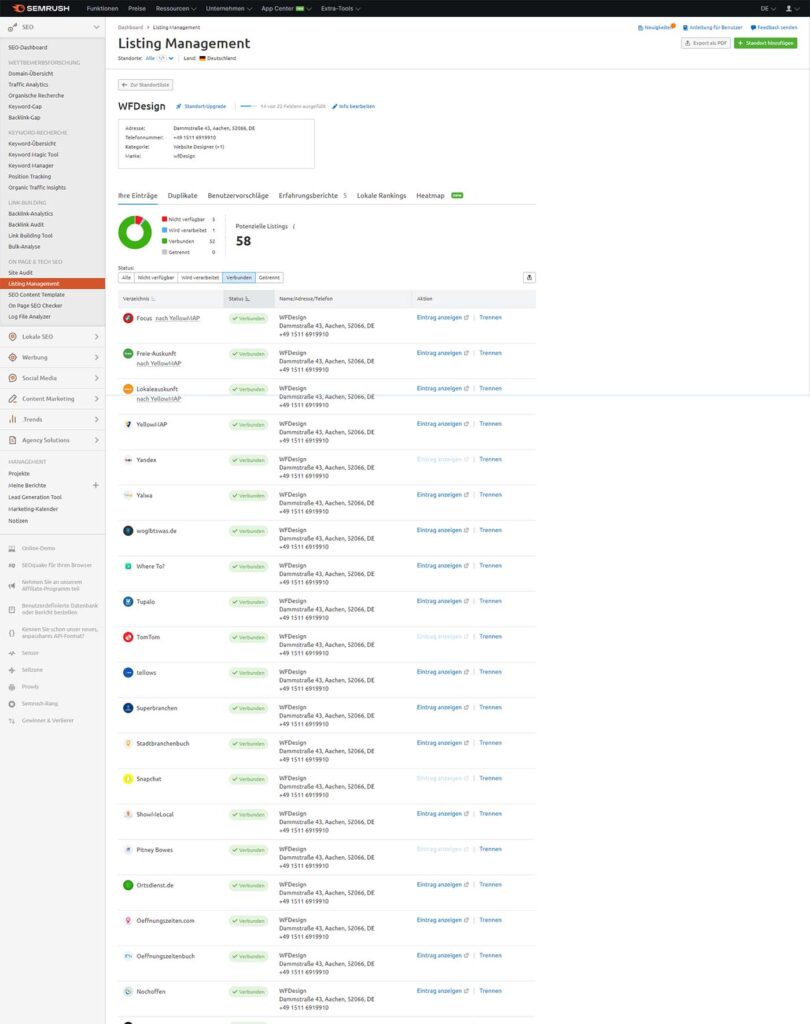 Semrush is not cheap, but it is one of the most helpful tools for SEO ever.
5. Ask your customers for reviews
Another advantage of signing up for and optimising Google My Business is that customers can leave reviews that are displayed in local search results.
This way you get direct customer contact and potential new customers see the quality of your company.
Businesses that rank high in local search results tend to have the most ratings and reviews. So if you have competition in your area, you should focus on getting reviews.
If you do your work well, asking your clients to leave a review is a great way to get good feedback that will help new clients.
It is very important that these reviews are truthful. There are certain sites on the internet where you can buy reviews, but something like this is always associated with risks.
If you decide to buy from another site, be careful because if it's not genuine, Google will recognise it and you can say goodbye to local SEO and appearing on Google Maps.
6. Use the same NAP (name, address, phone) everywhere
Based on the previous point, it is important that the NAP is the same wherever you enter it and that it can be tracked.
In other words, you must include your business name, address and phone number identically (both in content and format) in all places where your business appears online (your website, Google My Business, business directories, etc.).
7. Geolocalise your images
This is a little trick that not many people use and will help you stand out in your locality.
Thanks to GeoImgr.comthis process is quite simple with a website where you upload an image and automatically inserts a small code to mark the exact coordinates of your business.
The procedure is very simple:
Upload a picture.
Select the location on the Google map (use the same location as your business and the one you entered on Google My Business).
Click on Mark Photo.
Download the image.
And it's as simple as that. You've already geolocated the image in your code so Google can better identify the location of your business.
You should do this with all the images on your website. Of course, this also applies to the images you upload to Google My Business.
8. Add an embedded Google map to your website
Adding an embedded Google map to your website that includes your business address is very important for both your customers and Google to know that this web address has a physical location.
Make sure that you enter the same coordinates that you have already entered in the other places.
A good place for this card is usually the "Contact", "About us" or "Where we are" page.
9. Other important factors for local SEO
At the end of the day, local SEO is still SEO.
So you should not neglect any of the aspects we have already talked about in the SEO part of the blog.
It is important that you set up a blog with good content on your website and update it regularly.
If you still need help with SEO, contact us, we provide a free consultation.