eCommerce has grown strongly in recent years. The COVID pandemic has accelerated this trend and forced many brick-and-mortar businesses to take their business online. Many small businesses do not have an IT department that can service eCommerce transactions.
To meet this demand, eCommerce platforms have multiplied, offering businesses multiple options for conducting eCommerce. According to Pipecandy the eCommerce platforms with the largest market share in 2021 are as follows:
Woocommerce - 28%
Shopify -15%
Wix Stores - 14%
Squarespace - 8%
Ecwid - 7%
Choosing the right eCommerce platform can be a challenge, especially for a young business. eCommerce platforms offer many features and services, many of which involve new or changing technologies, and it can be difficult to understand exactly which features you may need and which are superfluous.
At wfDesign, we work with mainly WooCommerce, an eCommerce platform that works with the popular CMS WordPress connected. WooCommerce is the most natural fit for our web design process, which leads us to work with them for eCommerce rather than other platforms such as Shopify.
It is important that our customers understand how WooCommerce works and how they can benefit from it. In this article, we compare WooCommerce with its next biggest competitor, Shopify. We hope that through this comparison you will be able to make an informed decision about which platform is best for you.
Woocommerce vs Shopify: The basics of eCommerce platforms
eCommerce platforms can be complex, with many features, add-ons and connections to other web tools and software products. Despite this complexity, platforms share a common goal: eCommerce platforms enable efficient, secure online transactions. We can look at this goal from both the buyer's and the seller's perspective.
Customer needs are paramount when choosing an eCommerce platform. A business owner may be able to deal with a strange, frustrating or unattractive interface on the backend, but if an eCommerce platform cannot provide an engaging customer experience, customers will go elsewhere. Consider the following:
Are customers already familiar with the platform? Familiarity means ease of use and a smooth customer experience.
Can customers trust that their credit card details and other sensitive information are safe?
Is the checkout process easy to navigate?
Does the platform offer technical support if the customer has problems?
To achieve these goals, an eCommerce platform must be able to customise the user interface to be intuitive, familiar and reassuring to customers. The seller may have other concerns about doing business, such as:
Can someone without technical computer skills easily set up eCommerce on this platform?
Is it easy to integrate the platform with my website?
Is the platform affordable?
Does the platform offer tools that automate business operations?
When comparing WooCommerce and Shopify or two other eCommerce platforms, consider both perspectives. An ideal eCommerce platform should be the culmination of a marketing strategy or sales funnel that brings consumers and sellers together. Evaluate each eCommerce platform feature in terms of how well it serves your overall marketing strategy.
Woocommerce vs Shopify: Introduction to Shopify
Although eCommerce platforms date back to 1982, Shopify is one of the oldest eCommerce platforms, debuting in 2004. Shopify began as Snowdevil, an online snowboard shop in Canada. The software developed for this site eventually became an eCommerce juggernaut, taking in nearly $3 billion in 2020, an increase of 86 % from the previous year.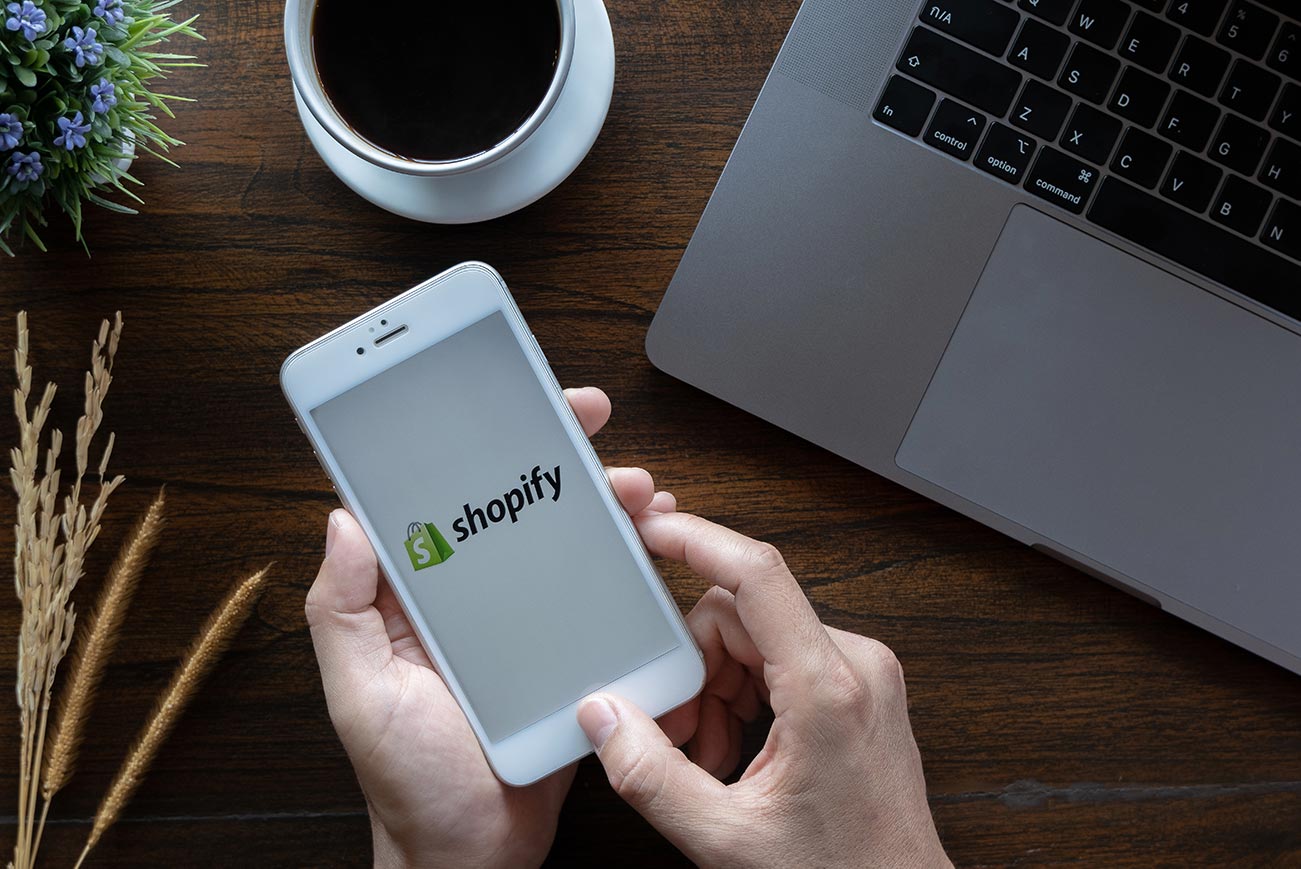 By 2021, Shopify serves 1.7 million merchants in 175 countries, including major brands, according to the Shopify website. It is likely that consumers are familiar with Shopify and therefore more willing to trust the company with business transactions.
Shopify markets itself as a website for growing businesses, including search engine optimisation (SEO), logo design and other marketing challenges faced by new business owners. When we evaluate Shopify and its features, we evaluate it in terms of its potential to grow an entire business, not just the eCommerce checkout.
Woocommerce vs Shopify: WooCommerce and WordPress
WooCommerce is a relative newcomer, launched in 2011. WooCommerce grew out of WooThemes, a company that sells themes developed in WordPress. WordPress itself is by far the most popular CMS, with 38 % market share in 2021. In comparison, Shopify, its closest competitor, has 3 %.
This means that while customers may not be familiar with WooCommerce, they have almost certainly experienced WordPress storefronts, blogs, business websites and many other websites. The ability to integrate seamlessly with WordPress sites offers a particular advantage to businesses already using WordPress for their business blog or website. With so many commercial websites already hosted by WordPress, it makes sense for businesses to add the WooCommerce plugin instead of working with a separate eCommerce platform.
This does not mean that you have to use WordPress web hosting to use WooCommerce. As we will discuss later, other hosting companies are also available. However, the association with WordPress has been instrumental in the rapid growth of WooCommerce's popularity.
WooCommerce vs Shopify: A point-by-point comparison
Requirements for setting up an account
Shopify offers a 14-day free trial that you can start with your email address and credit card. You can then choose a pricing plan and develop your online presence. Shopify has a handy checklist for anyone starting a new Shopify online shop.
For WooCommerce, getting started depends on whether you have a WordPress Business or eCommerce plan. If so, adding the plugin is as simple as navigating to the plugins section and installing WooCommerce. If not, you will need to purchase a WordPress plan or set up a website with a web hosting company that is compatible with WooCommerce.
Once you have installed the plugin, simply run the setup wizard. This will guide you through the Store Profiler, which will ask you questions about your online shop. As described in this WooCommerce guide, you can use the setup wizard to install extensions and set up your financial system, tax and shop elements.
How easy it is to set up an eCommerce platform depends on what you already have. Shopify offers the easiest setup process for business owners without an existing WordPress account, as it includes hosting. However, for business owners who already use WordPress for hosting, the setup wizard is relatively easy to use.
Business owners without a WordPress site should investigate whether WordPress web hosting is right for them, or Research web hosting providersthat support WooCommerce.
WooCommerce vs Shopify: eCommerce Tools
An eCommerce platform would not be successful if it could not handle secure financial transactions. Both Shopify and WooCommerce accept credit card payments along with other methods such as PayPal, Amazon Pay or Klarna. Business owners can also use over 100 third-party gateways to receive funds.
Shopify only allows currency selection for Shopify payments, and users cannot select currencies for third-party payment gateways. Users can use automatic currency conversion or set international prices depending on their plan. WooCommerce offers a currency conversion extension, and free/free third-party currency conversion plugins are also available.
eCommerce is about more than just credit card or PayPal transactions. Both WordPress and Shopify advertise that they offer comprehensive support for businesses, so it's fair to ask which of these companies best meets this standard.
Both WordPress and Shopify offer SEO tools, blog creation tools and web traffic analysis software. Both platforms also offer options for connecting websites to social media platforms.
Shopify offers more than 1,300 apps, including over 100 social media marketing apps, SEO apps, marketing analytics apps and email marketing apps. WordPress also has a number of marketing apps.
Neither platform has a shortage of helpful add-ons for any small business. However, there is one key difference between Shopify and WooCommerce that affects the amount and type of software available: WooCommerce itself is open-source software, while Shopify is closed-source.
WooCommerce vs Shopify: Open vs Closed Source
Open source vs closed source
WooCommerce is open source, which means that the computer code that runs the software is openly available. Developers working with WooCommerce can more easily integrate it into the software. Open source software has the following advantages:
More software add-ons and related programmes. A community of developers can create software built on top of WooCommerce, with hundreds of extensions available.
More customisation options. Access to the code means that programmers are not limited to the changes that software developers allow.
Often tighter security. This might seem counter-intuitive, as the code is openly accessible. However, the community can find bugs and vulnerabilities, often faster than the company's programmers can.
Users can easily find answers to their questions as the open source community is very active and helpful, so there is no need to wait for customer service.
But there are also some disadvantages of open source software:
All these customisations require a little work. Pre-built software from a company can sometimes be easier than open source software. With WooCommerce, you have more to consider.
Keeping your software up to date can mean more work. Many people scattered around the world may develop extensions, plugins or updates.
It might be more difficult to find support if the software is developed by a community rather than a single provider.
The use of a Web design experts could offer you the best of both worlds. Their team will find the updates and extensions you need, so you can take advantage of open source software without having to worry about the details.
wfDesign is specialised in working with WordPress and WooCommerce, and we understand the WooCommerce developer community. To find the WooCommerce software that is perfect for your business, arrange a consultation appointment with us today.
WooCommerce vs Shopify: Web hosting
One difference between Shopify and WooCommerce is their relationship with web hosting. When you launch a website, the website runs on a server (a computer) owned by the hosting company. Some companies offer free web hosting, while others charge for the service. Web hosting companies, including Shopify, usually include website builders that allow users to design and customise their websites.
Shopify is a hosted platform, which means that its customers' websites run on Shopify servers. This can make things easier for business owners as they only have to deal with one company for hosting and eCommerce, but business owners are limited to what Shopify has to offer.
Shopify sites offer unlimited bandwidth, sales channels, financial reports, fraud protection and other useful features. The 1.7 million customers are proof that Shopify websites are more than sufficient for successful eCommerce. However, it has to be a Shopify website. The customer is not free to choose other hosting options and still use the Shopify eCommerce platform.
WooCommerce is a plugin developed for WordPress, but it is not itself a hosting service. This means that its users are not required to run their website on WordPress servers. Many website hosting companies, such as BlueHost and GoDaddy, have plans that are compatible with the WooCommerce plugin.
WooCommerce offers businesses more options. They can use WordPress hosting, which ensures compatibility, and also explore other hosting options. Since each hosting provider offers different features and prices, business owners have more choices and are more likely to find one that fits their business perfectly.
WooCommerce vs Shopify: Costs
According to Shopify's pricing page, Shopify operates on a subscription model and offers plans from 29 $ to 299 $. The more expensive plans allow for more employee accounts and more locations. Users can reduce the cost by purchasing a 1-year or 2-year plan. Transaction fees apply when trading on an external website, but not when customers run their website through Shopify.
WooCommerce has no monthly fee, but other costs apply. WooCommerce is a WordPress plugin, and in order to use WordPress plugins, a business owner must have a WordPress business account ($ 25/month), a WordPress eCommerce account ($ 45/month) or web hosting with another company that offers the WooCommerce plugin. At wfDesign, we can host your Woocommerce site on our servers in Germany.
In short, Shopify and WooCommerce have different ways of generating revenue. For business owners who already pay for a WordPress site, adding eCommerce doesn't necessarily come at an additional cost beyond transaction fees. Other services, such as shipping and some web security and SEO plans, cost extra.
For businesses that are not already using a WordPress site, especially those with low profit margins, it might make sense to use Shopify to avoid transaction fees.
Both Shopify and WooCommerce offer additional features, such as basic SEO, at no additional cost. Many of the functions of WordPress are offered in the form of additional plugins.
Is WooCommerce really free?
The WooCommerce plugin is called free (as opposed to freemium) because the plugin itself is fully functional and does not cost any money itself. However, it is only "free" if you already pay for a web domain and a WordPress web hosting plan.
WooCommerce vs Shopify: Migration
Once you have chosen WooCommerce or Shopify, you are not tied to that eCommerce platform forever. Both Shopify and WooCommerce offer support for business owners who want to migrate to their service. In both cases, the migration process involves the secure transfer of data to the new company's servers. Unsurprisingly, both companies will guide you through the migration from your competitor. Third-party services can also handle the process for you.
If you are unhappy with your current eCommerce platform, it may be time to consider a change.
WooCommerce vs Shopify: The integration of eCommerce into your web design
Once you have decided to use Shopify, WooCommerce or one of the other eCommerce platforms for your business, the next step is to plan your eCommerce shop so that it matches your brand, your marketing plan, your customers' expectations and the rest of your website.
Shop customisations in Shopify
Shopify offers free and paid templates designed for different types of retail, such as jewellery shops and clothing shops. Once you've decided on a theme, you can customise it through the Shopify interface or with HTML and CSS code. Shopify's language, Liquid, is designed to be easy to use even for shop owners who are not experienced programmers.
The Shopify app shop offers many apps to perform functions related to eCommerce, such as shipping, analytics, taxes and accounting, and these apps are organised into collections. A collection called "Start Your Shop" might be of particular interest to new business owners.
Shop customisation in WooCommerce
The WooCommerce theme store offers free and paid themes in its store. WooCommerce extensions make it easy to extend the functionality of the shop and connect it to the rest of your business operations. At the time of writing, 576 extensions, 31 of which are free, were available in the WooCommerce extension store. The extensions help with payment, taxes, shipping, analytics and other eCommerce tasks.
Due to WooCommerce's open source design, developers can easily design and sell themes, with thousands of WooCommerce themes available online. Shopify's Theme Store offers 9 free themes and 64 paid themes. Third-party websites also offer a variety of Shopify themes and templates.
Both Shopify and WooCommerce offer ways to customise your storefront and enhance it with apps and extensions. WooCommerce offers a wider range of options, but they can be daunting for a new business owner with limited technical knowledge.
WooCommerce vs Shopify: eCommerce via mobile apps
Customers are increasingly using their smartphones for eCommerce. A website that looks great on a desktop or laptop but is clunky or difficult to use on a phone is likely to put off a large number of customers.
Shopify and WooCommerce offer responsive themes that adapt to mobile phone dimensions. The WooCommerce website also has blog posts on mobile eCommerce and how to increase mobile sales. Although neither platform has the advantage of mobile apps, it is important to consider whether your eCommerce website is mobile-friendly. WooCommerce's greater customisability could make it more likely that you will find the perfect look for your website in all formats.
WooCommerce vs Shopify: Which is better?
There is no clear answer to this question. CNET, a leading tech product testing company, rates Shopify as the best system for eCommerce and WordPress for writers and bloggers, but the truth is probably more complicated than that. WordPress and WooCommerce require a little more work to set up and maintain, while Shopify is more straightforward but offers fewer customisation options.
Both Shopify and WooCommerce have the features and capabilities business owners need to set up an online shop and support their business operations with apps and add-ons. While the sites differ in their pricing structure, there doesn't seem to be a clear winner when it comes to cost. Each option can cost a few hundred dollars to get started, depending on how many extras your business needs.
The most obvious differences between the two platforms are the level of customisation and the amount of work and technical knowledge required to set up and maintain a storefront. Shopify makes things easier and takes a lot of the work off your hands, but is more limited.
WooCommerce offers more of a do-it-yourself experience, allowing shop owners to 100% take control of the design and development process. However, the price of this control is the responsibility of setting up a website compatible with the WooCommerce plugin, designing that website and keeping it updated and secure.
When you choose WordPress, you have the option to make your checkout experience unique and tailored to your customers' needs. Shopify offers more support and simplicity, which could be ideal for business owners with less computer know-how or less interest in customisation.
The choice between Shopify and WooCommerce ultimately boils down to simplicity and ease of use versus customisation and control. Business owners considering either platform should weigh up how much time they want to spend on the technical side and whether they can live with Shopify's more limited customisation options.
Shopify makes this trade-off as part of its branding. In a blog post on the Shopify website, Alexander Sheehan writes: "Shopify is made for entrepreneurs who want to build and sell, not manage an ever-growing list of tools."
Shopify offers simplicity and fewer distractions, while WooCommerce offers an expanded toolkit and more customisation options.
One resource to consider when thinking about Shopify and WooCommerce is the experience of online users who have switched from one platform to another.
Shopify's website features testimonials from customers who have switched from WooCommerce. Among the problems these business owners report are sluggish WooCommerce sites and a lack of customer support when things go wrong.
After evaluating this experience, the best advice for business owners is to answer these two questions:
Do I need control over the technical aspects of running my online shop?
Am I willing and able to take responsibility for the smooth operation of the website?
What if, like many business owners, you want to have control over the design of your online shop without having to worry about every detail? wfDesign can help.
WooCommerce and professional web design: the best of both worlds?
Are you considering WooCommerce for its flexibility but are concerned about the technical aspects of eCommerce? Hiring a professional website developer could create a website tailored to your needs without getting lost in the details. A professional web designer should be able to understand your vision for your eCommerce website and know how to use web tools effectively to bring it to life.
We offer a range of web development and marketing services, including WordPress and Woocommerce web development. They have years of experience using WordPress for Web Design, dating back to the first introduction of WooCommerce. By specialising in WordPress, they have developed an extensive knowledge of the functions and possibilities of WooCommerce.
If you have a unique concept for your website and online shop, wfDesign can develop an integrated website and marketing plan. You can have all the advantages without having to put up with the disadvantages:
Effective use of WooCommerce and WordPress functions
Smoothly functioning extensions and plug-ins
Responsive websites that are user-friendly on laptops and mobile devices
Attentive and reliable customer support